Cast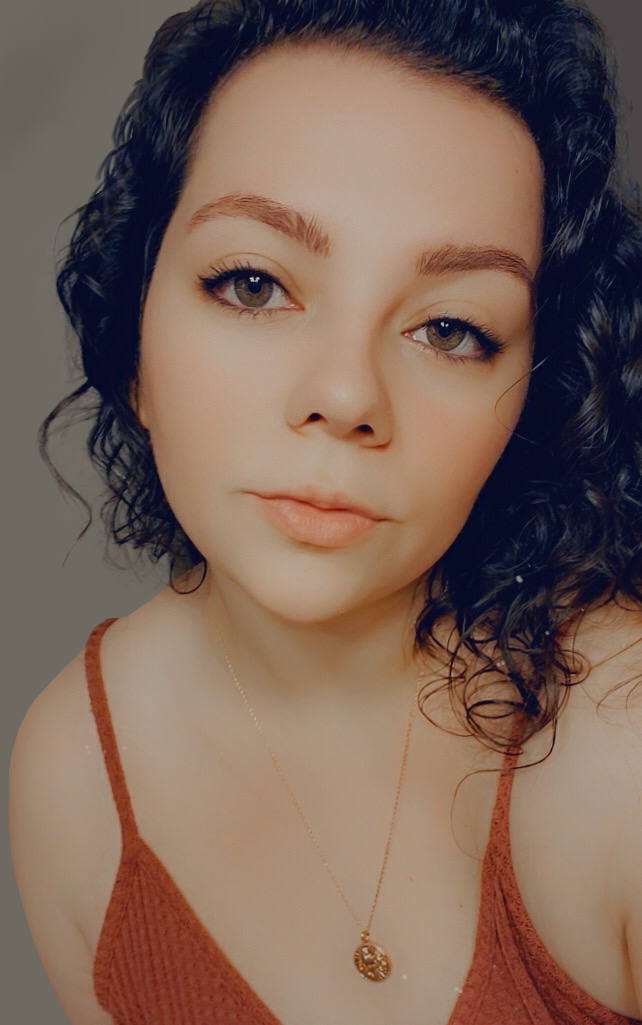 Amanda Hufford as Becky Harrison
Amanda Hufford (they/them) is a lifelong performer from Houston, Texas, working in video games, animation and commercials as a voice actor and vocalist. With a background in stage and musical theatre, they have always enjoyed vocal performance and fell in love with voice acting early on. When not behind the mic, they're also passionate about direction, having worked with various projects and talent to bring the best performances to life.
Christian Young as August Caldwell
Christian Young (he/him) is an African American and Indigenous voice actor based in Austin, Texas. With experience in animation, web series, podcasts, and corporate narration, he's always looking for a fun and exciting new project. He also works on the other side of the mic, daylighting as a producer at a digital media company. Outside of work, you can find him geeking out about comic books, video games, and movies.
Kim Gasiciel as Rhonda Caldwell
Kim Gasiciel (any pronouns) is a mixed Latine, queer, asthmatic voice actor, splitting time between LA and Chicago, who is absolutely thrilled to be joining the cast of Afflicted! Kim started acting onstage at a young age, and eventually found the magical world of voiceover during college. Since 2014, Kim has voiced in educational shorts, audio dramas, anime, video games, visual novels, commercials, and more. Beyond acting, Kim has a BS in Psychology with an English minor from UIUC, loves singing, playing softball, learning new instruments, hosting and playing trivia, being a huge nerd, collecting Kirby merch, looking at seals, eating food, and finding new things to love.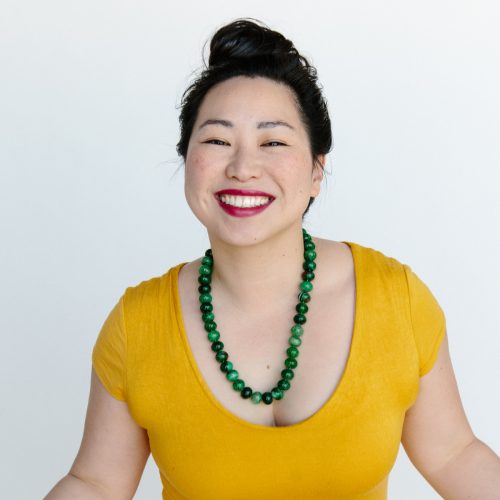 Ivy Le as Dana Griggs
Ivy Le (she/they) is a Vietnamese American comedian, actress, and writer based in Austin, Texas. She is creator of the critically-acclaimed Spotify Studios podcast FOGO: Fear of Going Outside, a nature show by the most reluctant host ever. She co-hosts the only queer comedy open mic in Austin and currently seeks representation for a pilot script about a ninja who tries to change her life by going to coding camp. She has two kids, and speaks English, Spanish, Vietnamese, and German.
Rue Dickey as Hank Grimes
Rue (they/he) is a nonbinary, Roma-Indigenous-Welsh, disabled creative based out of Oregon, US. By day, they do marketing and community outreach work, and by all other times of the day, you can find him designing TTRPGs, doing voice work for podcasts & video games, building costumes, and more! You can hear his voice in Under the Electric Stars, The Graveyard Tapes, Monocyte, and many more shows. You can keep up to date with the projects Rue is working on by following them on twitter. For voice over work, or any other freelance opportunities, please contact Rue via his website.
Cherrae Stuart as Karen Spaulding
Cherrae L. Stuart (she/her) is a Writer, Producer, and Narrator of the compelling and unique Podcast experience Good Morning Antioch, a science fiction black comedy and Co-Host of TCAD (Theatrical Conjecture and Dissertation) an "Unfancy" Entertainment News and Movie-Review show. You can also hear her featured on episodes of Nightlight: The Black Horror Podcast, Pseudo-Pod, Cast of Wonders and The Reading.
Raiden T. as Ethan Caldwell
Raiden (he/him) is a professional student, and sometimes pro gamer, who loves any machine that flies. He plans to be a pilot one day, running his own flight tourism business. You can hear Raiden's other voice acting work over on our sister podcast, NIGHTLIGHT, in each of the Halloween season finales. He also helps his mom, Tonia, with her Twitter stories by taking pictures, eating fake blood, and dreaming up creepy things to scare people with.
Crew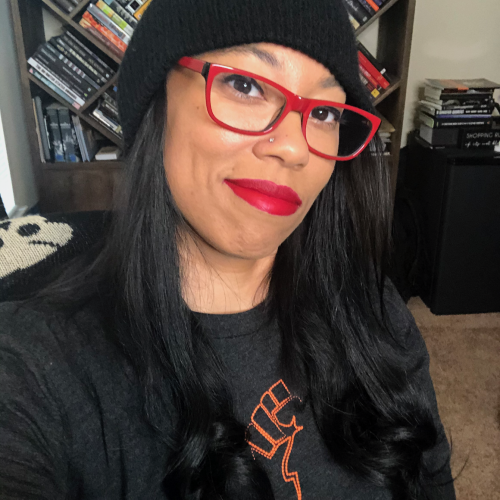 Tonia Ransom
Creator, Writer, Executive Producer, Director
Tonia Ransom (she/her) is the creator and executive producer of NIGHTLIGHT, an award-winning horror podcast featuring creepy tales written by Black writers, and Afflicted, a horror thriller audio drama. Tonia has been scaring people since the second grade, when she wrote her first story based on Michael Myers. She's an IGNYTE award winner, World Fantasy Award Finalist, and This is Horror Award runner-up. She lives in Austin, Texas.
Jen Zink
Co-Executive Producer, Co-Director, Sound Designer
Jen Zink (she/her) a freelance Podcast Editor, with work at BookRiot, How Do You Know? Backbox Pinball Podcast, and more. Additionally, she is a Sound Designer at Nightlight, an award-winning horror podcast featuring stories by Black writers, and others. She is the former host of The Skiffy and Fanty Show, a SFF podcast, and a four time Hugo Finalist for her work on the show. Jen has been an unconvincing Homemaker for over 20 years, and is passionate about all things speculative fiction. Otherwise, she neglects gardening, offends art, overbrews tea, and attempts sleep, though not necessarily in that order or all at one time. She feels absolutely honored to be working with the cast and crew and her best friend, Tonia Ransom, to direct and executive produce Afflicted.
Website
|
Twitter
|
Instagram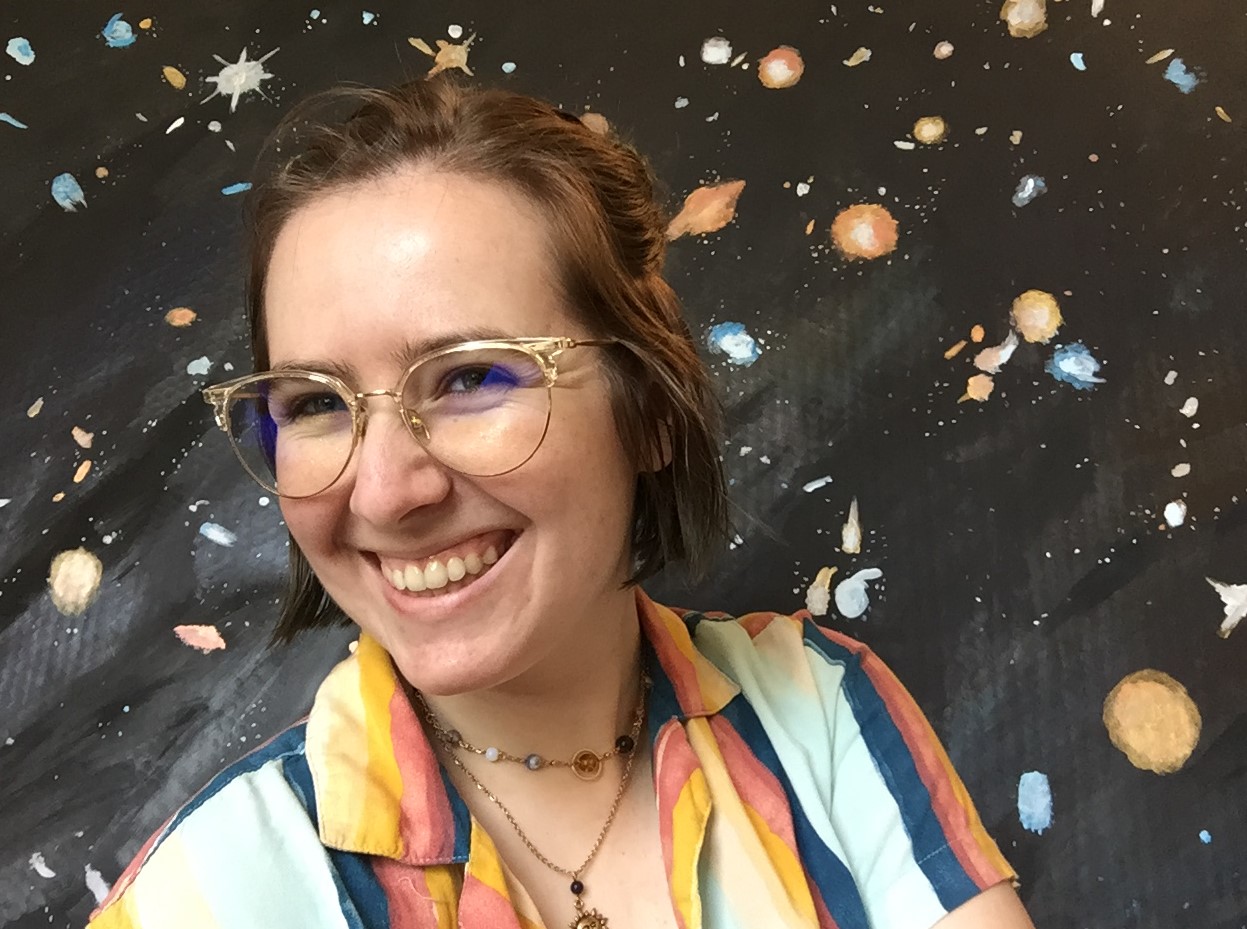 Tal Minear
Cover Artist
Tal Minear is a fiction podcast producer, sound designer, and visual artist. They're the creator of Sidequesting, What Will Be Here?, Re: Dracula, and several other productions that can be found hiding under rugs and around corners. When not telling stories, they can be found making a mess with watercolors, petting cats, or wielding swords. Find more of their work at talminear.com